Third Horizon Caribbean Film Festival
This fall, the inaugural Third Horizon Caribbean Film Festival will be held in Miami, bringing the best in film from the Caribbean and its diaspora to South Florida. The festival will take place from September 29 to October 2 at O Cinema Wynwood.
For centuries, the Caribbean has been a place where people from the Americas, Africa, Europe and Asia have converged, and its stories are far richer and more nuanced than the tourist brochures would have you believe. As film production becomes less prohibitive and more democratic, a new generation of Caribbean filmmakers are seizing the moment to bring these stories to the screen. And with the current drive for diversity in film, the time has never been more ripe to share these stories with the world. The Third Horizon Caribbean Film Festival aims to celebrate and empower the filmmakers leading this charge and promote films which tell the stories of the region, its people and their diaspora.
The festival was founded by Third Horizon, a Miami-based collective of Caribbean creatives whose first short film, Papa Machete, had its world premiere at the Toronto International Film Festival in 2014 and had its US premiere at the Sundance Film Festival in 2015, before going on to screen at more than 30 film festivals worldwide. It is being staged in partnership with the Caribbean Film Academy, a Brooklyn-based not-for-profit organization whose core mission is to support and distribute the work of Caribbean filmmakers.
---
FESTIVAL ARTIST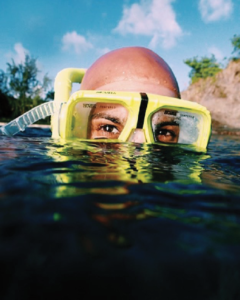 This year's festival art draws on the work of Vincentian artist Nadia Huggins.
'Nadia Huggins is a self-taught conceptual documentary photographer from St. Vincent & the Grenadines. Her photographs explore Caribbean culture and identity through people, self-portraits and the landscape.
Her work has been published in, 'Pictures from Paradise: A Survey of Contemporary Caribbean Photography', and 'See me here: A Survey of Contemporary Self-Portraits from the Caribbean'. She has recently exhibited work at PhotoImagen 2016 at the Museo de Arte Moderno Santo Domingo, Dominican Republic. Also previously in 'Wrestling with the Image: Caribbean Interventions' in Washington, DC.; 'Pictures from Paradise' at the CONTACT Photography Festival in Toronto, Canada; and 'In Another Place, And Here' at the Art Gallery of Greater Victoria, BC, Canada. She has received a photography award at the FESTIVAL CARIBEEN DE L'IMAGE du Mémorial ACTe in Guadeloupe for her Circa no future series. Huggins is also the co-founder of ARC Magazine and a full time freelance graphic designer.
---
ORGANIZERS
The Third Horizon Caribbean Film Festival is produced by:

Co-Founder and Festival Director
Jason Fitzroy Jeffers
Managing Director
Romola Lucas
Co-Founder
Robert Sawyer
Director of Programming
Jonathan Ali
Co-Founder
Keisha Rae Witherspoon
Sponsorship and Outreach
Donnamarie Baptiste